GEO pan
GEO series cooking pan has been enjoying good reputation by the excellent quality. We have been exporting GEO pans for 1000sets since 2002.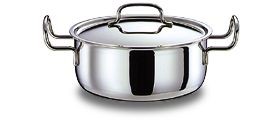 Easy to handle and easy to clean

Simple design with smooth rim and bottom corner.
Easy to clean and easy to maintain.



Reliable structure and excellent durability
Both handles and knobs are made of stainless steel, therefore will not burn scorch and/or crack.
Handles and knobs are fixed directly to the pot for durable attachment.

Convenient auxiliary handle

Single handle pans and saute pans are fitted with an auxiliary handle for your convenience.
The auxiliary handle may be used to hang on a wall while not in use.

A fine mesh drainer
This pot is capable of boiling various kinds of noodles, such as pasta, Chinese noodles, buckwheat vermicelli, wheat vermicelli and other noodles.
The drainer, designed with fine mesh is capable of holding superfine shape.

Dual oven use

Capable to be used for cake baking or may be used in the oven. The pot made of all stainless steel is capable for dual use.
Energy saving and tasty, healthy cooking Seven-ply structure
A seven-ply structure made of heat-conductive aluminum sheet sanded with stainless steel.
It shortens cooking hours by effective heat conductivity and economizes heat energy.
It minimizes the use of water from complete waterseal, and avoids loss of vitamins, minerals and flavor of the food.
Keeps the taste and nourishment
"To boil in a small quantity of water" means the effect of the water seal to be formed between the body of the pot and its covers keeping the original taste and nourishment of raw ingredients.
Applicable to all heat source.
For more detailes, please feel free to contact us.